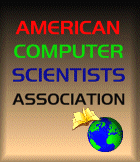 We are the ACSA, a determined group of computer scientists, communications engineers and associated professionals.

We are the people who make it possible for computers, laptops, personal computers, servers, supercomputers, tablet computers, cellphones, networks, the Internet and communications networks to do their daily jobs. And as a result, those things that rely upon computers can also do their daily job ranging from your iPhone to the computers on board the Mars Rover, to the computer on board a Jet Aircraft that keeps it stable in flight, to the computer you give your Credit Card number to when you check out at Amazon or at your local Restaurant.

Welcome to our Association! Here you will find stories from technology history, advances in technology, publications, business advances and educational materials. Here you will also find human rights efforts, responsible environmental efforts and just plain work being undertaken for the benefits of Humankind.

Please feel free to contribute to us in kind with ideas, proposals, donations and volunteerism. To reach us Click HERE to send us a message.


Our New Website is presently being redeveloped.


Tel:

888-532-5540 X.1


To visit our original, circa pre-2010 website, visit us HERE.
To visit ADVANCES MAGAZINE, visit it HERE.